Happy Hump Day!!! It feels like we just got home yesterday yet its been a whole week. Why does it feel like every week goes by faster and faster??? Anyone else feel that way?
Since I haven't done it in awhile, I'm linking up with Shannon for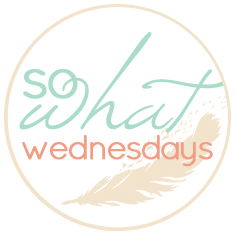 This week I'm saying SO WHAT if....
I chose not to give Bailey ice cream, let him hump or be mean to the other dogs. My aunt allows her dogs to have Dairy Queen ice cream and to be mean because she says they are "just playing". 1) Ice cream isnt good for dogs and 2) I didn't pay $$ to have Bailey trained just so I can go and ignore everything our trainer said

I gave our waitress a $1 tip the other day. When I tell you what I want for my meal and then say I want a to-go order at the end, you should probably write which one is which. She brought me the to-go order instead of the meal I wanted. then spent 20 minutes standing there before finally giving me what I asked for.

Tim Tebow has joined the Patriots. I'm not a big sports fan but did laugh while Brian squirmed in his seat due to the major dislike he has for Tim.

I've giving up all hope with my cell phone. It freezes, takes forever to load when I'm on the internet and is just a pain. I'm counting the days until my upgrade in September!

I drooled all over Luke Bryan when we watched the benefit concert for Oklahoma last week. Brian was sitting about 10 feet away. No shame for this girl!

I'm thinking of getting an

Erin Condren life planner. As I've mentioned probably more times than I need to how I love to be organized. Any thoughts? I'd really love opinions...pretty please! :)

I'm actually really glad I chose not to have a summer class. I realized yesterday that I've taken at least one class every single semester since I started at the college (2010).

I've decided to be lazy this week. While I normally hate being lazy considering I dont have a job and am not in school it means I'm more than capable of accomplishing alot. Not this week. It's rained since Monday and is supposed to start raining again tomorrow and all day Friday. They specifically said we are getting a Nor'easter!

I havent gotten Brian a present for his 25th birthday on Saturday. We agreed every early on that we dont need to get each other gifts. If we want something, we can just buy it whenever. We'll probably head out to dinner Saturday night.
For those of you who didnt see it, I now have Twiiter (happinessblog3) and Bloglovin'.