Happy Sunday friends! I hope your weekends have brought you relaxation and fun. It's been beautiful here so it's been nice to get outside!
It's Sunday again which means Sunday Social and this week's question are awesome! I've been talking alot lately with other bloggers about how we kind of wish we were younger again and got to do all the fun kid things! It's funny how when your a kid or teenager you dream about when you have a "big girl job" and a house and a family. Yet now, we kind of miss those days when we didnt have a care in the world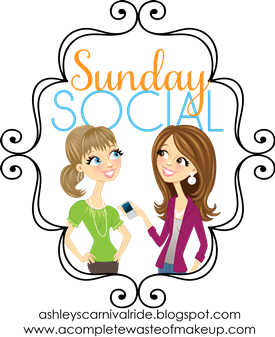 1. What do you miss most about being a kid?

Hanging out with my two best friends. We met in kindergarten and started doing everything together. they live one street over from us, and they still do! We dont see each other really ever anymore except for the dinner dates once every few months. But just the fact that we've been friends our whole lives. We used to do everything and anything together. If only we were mature enough back then to actually realize how special and unique our bond was

2. Dd you have a nickname growing up? What was it?

It was Krissy. Play off of the real name..boring :)

3. What was your favorite thing to do at recess?
We were blessed to have a great playground at our elementary school! We had many rules at recess. I know, come on! One rule was that we couldnt just sit and talk to our friends, we could have fun if we were in motion. Which meant we were always climbing on the monkey bars or the slides. Favorite hands down was foursquare!

4. What did you want to be when you grew up?
a Teacher. I have loved children ever since I can remember. I loved helping out in our classrooms. I figured that if I could help students learn and I could pass down all my experiences than I was doing something right.

5. Did you participate in any school activities?
I wasnt and am still not a sports girl. I was always the nerd who would come home from school and do her homework until it was done perfect. Although my best friends and I did particulate in the school's talent show. Here's a picture and if you want to read the whole story you can find it here
6. What is the funniest thing you did as a kid that your parents still remind you about?
Oh gosh, I did some pretty funny things. I think one time that I always cringe about when hearing is when my mom and I went to the food store. Now, I love color. If it has any type of color it stands out to me. So apparently, the nice little things of crafting ribbon that were in a small bin at checkout looked overly good that day. so, I took one and walked out. I'm pretty sure I felt guilty five seconds later.