Happy Wednesday! Due to my head being in a geography book for the last two days I decided to make today's post simple. Since I havent in awhile, I'm linking up fo
r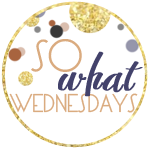 This week I'm saying SO WHAT if...
I was actually really bothered that the Style Network got taken away. And the fact that I spent a half hour searching for the episode of Giuliana and Bill I thought I missed last week just to find out it took a 3 week break

Bailey has gained 3 pounds. I swear this dog has a tape worm. Although I'm not too happy about it, we also don't take him for walks. Surprisingly he's actually not a huge walker and when we do walk, he has to sniff every time so a good walk never happens

I secretly wish that Brian would go spend the nights that the Bruins are on with his family. Hockey starts tomorrow night and Brian already called the TV. I honestly treasure the times where he's working.
I haven't told my teacher what I want to do for a research topic. This whole Class, Status and Power classes isn't up my alley and I have absolutely no interest in it. Although I love education and learning, when you have no background knowledge on these topics, it's hard to follow along and know what your writing.

I bought a cookie two days in a room at school. I promised myself that starting October 1st I'd eat way more fruits and veggies. I get inspiration in eating really good during the fall months. I then convince myself that if I do it then I can do it anytime of year. But those cookies...warm and oh so good. Plus they were only a dollar

I gave the girls that sit behind me in class a mean look yesterday. They seem to think it's crutal to talk about the color of their nails during class. It's hard enough to hear our teacher because he's like 75 years old and doesnt talk loud

We are selling the wave runner. This is something that I kind of dont want to do but we barely used it this summer due to my dad hurting his back.

I decided to fully give up on drying my hair. My hair is thick and always gives me problems. At the beginning of the summer when I went to get my hair done, my hairstylist said that it's actually alot better for your hair if you dont dry it. Drying it only makes it look better.

I'm kind of jealous of all my pregnant blog friends. It's so great that beautiful babies have and will be coming into this world but seriously. They are my favorite and I kind of wish I had one :)

I havent wrote any scheduling posts for the week. I've been so busy that I've kind of thrown together the ones this week in a short period of time. But it's ok. I needed to feel un-rushed due to all the school work