Happy Friday!!! This week was kind of perfect. Fall is officially here and I cant be more excited. I always feel like a breath of fresh air around this time and always feel relaxed. We become really festive this week too! So, today I'm linking up for Five for Friday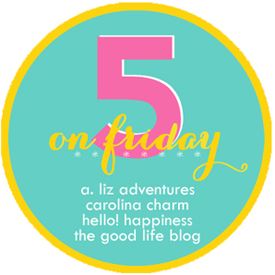 1. It's not Fall until there's a wreath on your front door!
2. We switched the runner and flowers on the dining room table. Until we added another room back in 2006 we didnt have a dining room. I'm actually kind of glad we have it. so we can make it feel warm and home-like during the fall/Christmas months.
3. Hands down my favorite Fall meal. Autumn pork roast. Fresh veggies and apples with the taste/warmness of the pork...way too good. If you are lucky I might share the recipe next week. I'm doing the before and after picture because the after cooking picture doesn't show the true colorfulness of it.
4. Benefit of living near the farm? Tons of pumpkins and other Fall activities!!!
The white pumpkins were so cool!
5. Although I didn't do barely any, I finally got out my overly organized wedding planner. I couldn't have found one better!
Have a wonderful weekend!