As I look back on these months of blogging, I realize that there's one thing that I haven't really talked about. Music. I put a few songs up in one post but that was it. I love music. I always have and always will. I've always been a fan of "sappy" songs, love songs and songs that tell a "story"/. Needless to say I've never been into rap, or rock or anything of the sort. Until I become older, I never realized how much songs can tell the story of something you've been through. I've sat listening to a song and can replay a moment down to the last second. When I'm having a bad day I put on a song and all my worry or sadness goes away. It's like the words are speaking to me. As I've mentioned I'm not an open person. I hate having "serious" conversations with people. I hide my emotions because expressing them makes me too nervous. Which isn't good because having a conversation or telling someone something serious needs full focus. That's why I love this blog. I"m able to express things that I don't express to people around me. It's the same with music. For example, when I was in high school I had many songs that meant things. For good reasons. I never told anyone that's why I listened to them all the time. My mom knew. She'd know that if I put the song on, I was sad or happy. music is something that can change you yet you don't even know it.
When Helen posted about her one time link up, I was all in. Sharing songs that mean something to us. I've had many many experiences and it's amazing how many songs I can relate to. I wanted to participate in this link up to once again, express times in my life. Times of sadness, happiness and everything in between. I feel that music can also tell a story. So, here are some songs that I've kept in my heart through the years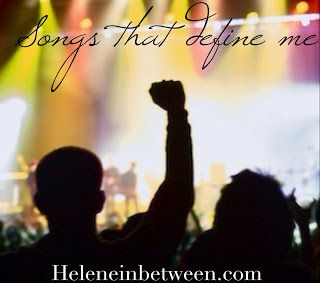 Last week I wrote about a time in my life where I thought I lost myself. You can find that here. Honestly, you have to read that to really get this song. For the few months this guy and I were together, I was staying with my grandmother after school on Tuesday's and Friday's when my mom worked. My dad would pick me up and we'd drive the 10 minutes home. I can only remember these moments being sunny and beautiful out. He'd have a CD on that he downloaded songs to. At a certain point in that short drive it always seemed that this song came on. When the guy and I broke up, forget it. This song expressed my feelings toward the situation perfectly. The second song is another that makes me think of the situation. It was September when we started dating.
Ok so I'll be honest, my mom has the radio on and this song came on. I hadn't even thought about using it but since I'm listening to it why not! While it's a pretty small moment, I"ll never forget it. Brian and I took my three cousins out to dinner at Chili's one night. We went almost every week because it was a tradition we had started. And every week we'd find something to laugh about. This night we had a male waiter. Well, he was cute! Like real cute and funny and cute. So we ate and he'd come over and we'd have a laugh and it was just fun. We even made the manager come over and raved about how great the waiter was! He probably thought we were crazy. My cousin. A girl, who was 16 at the time was loving it. At the end of the meal my another cousin. A boy who was 14 and doesn't mind speaking up said, to the waiter, how we'd have to come back and get him again. Well, the waiter gave us his card. Needless to say, my cousins were pretty excited. And the 16 started singing this song and was beside herself. What have I taught her?...
This song is special to my whole family. My grandmother was a wonderful singer. She'd sing for others and it was just a passion. This song was her "hit". This is one of the biggest ways we remember her. Her and my grandfather died a year apart. It was hard. I was only 10 when she died. But we know they are watching over us. Whenever any of us see a rainbow we stop and just reflect. It's both of them saying hello.
I won't go into detail with why this song is meaningful but we'll just say that if it wasn't for the situation that's related to the song, I probably wouldn't have started dating Brian
this song goes wayyy back. As I've mentioned my two best friends since kindergarten and I loved putting on shows. We'd build a list of songs and one afternoon would perform in my back yard and my mom would tape us. We did maybe 10 shows. Every show had this song as the opener. We thought we were awesome and we loved pretending this was a real concert. We did this song first because we were basically saying thank you to everyone for coming and supporting us (it was only my parents and grandmother watching!). We were weird
This was our graduation song. And words to honestly live by.
I just love Philip Philips! I haven't talked about the situation that relates to this song yet but it's a powerful one. Cant help but smile when hearing this song
How can you not love Blake Shelton?