My life hasnt consisted of much this week. Sure, things have happened but nothing that ezciting. The only thing exiting would be the snow day on Tuesday but even that is boring!!
So today I'm linking up with Ashley from
The Sweet Season Blog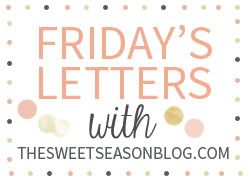 Dear Bailey. While I love to play with you and cuddle you, I'm SO excited you are finally hanging out on your spot again. This means you will spend less time following us around and more time relaxxing and staying quiet

Dear Sunshine. I was really loving the fact that you graced up with your presence this morning and were very warm. Now you have vanished and the sky is gray and its cold...please come back!
Dear Spring. You can to come back with the sunshine. As much as I loved winter and snow days, I really would like to go buy flip flops from Old Navy and wear capris. You've made your stubberness known so why dont you just give in?
Dear Old Navy. I went to you the other day to look around and browsed the flip flop section (for the future) and wasnt inpressed that you werent having a sale on them!
Dear Brian. As much as I love you, I dont love the fact that you're flying videos are playing very loud in the other room. Lets no forget, noise travels....
Dear Statistics Professor. thank you SO very much for giving us a test during Spring break. It's not like I had anything better to do on my days off.
Dear Abnormal Psych Profesoor. Thank you also for giving us a test. What better way to spend Spring break than learning about Anxiety disorders?!
Again, Dear Abnormal Psych Pofessor. I'm pretty sure the fact that you gave us all an online test to take and now the automatic grades on Blackboard have all dissapeared and you dont have any record of what we each got because you didnt write them down when you first saw them isnt a good thing. We might want to fix that before you have to give us all 100% like you had to do the first time

Dear Blackboard. Lets not play games. Please work!
Dear weekend. Take as much time as you need. Please dont feel rushed or anything!
Have a wonderful weekend everyone!!!