One of the things my mom enjoys doing alot in the winter is using the slow cooker. Especially when she works because I'm not exactly the greatest cook yet and would probably burn down the house if I attempted a whole meal. One of her favorite slow cooker meals is pulled pork. Again, it's a "family tradition" to make. It's great when put on sandwiches or mixed with other recipes. It also has BBQ which is nice if you like tangy. My mom uses a recipe she has written down so I got this picture and whole recipe from Pinterest.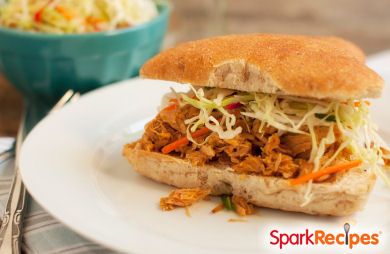 Ingredients
1 cup chopped celery
1 cup chopped onions
1 cup ketchup
1 cup barbecue sauce
1 cup water
2 tbsp vinegar
2 tbsp Worcestershire sauce
2 tbsp brown sugar
1 tsp chili powder
1 tsp salt
1/2 tsp pepper
1/2 tsp garlic powder
3 lbs boneless pork roast
Directions
Combine all ingredients except roast in the slow cooker.

Add the roast.

Cover, cook on high for 6-7 hours.

Remove the roast.

Shred the meat

, and return it to the sauce.

If desired, thicken the sauce by simmering on the stovetop.

Great for making sandwiches or using in other recipes

The sauce is good on rice, too.

Enjoy!